The people have spoken! Thousands of Bonfire Community Members have shown their support by voting for their favorite designs on Bonfire in 2019 and we're excited to finally announce all of the winners.
If you're a winner, be on the lookout for an email from us soon with more information about how to claim your prize!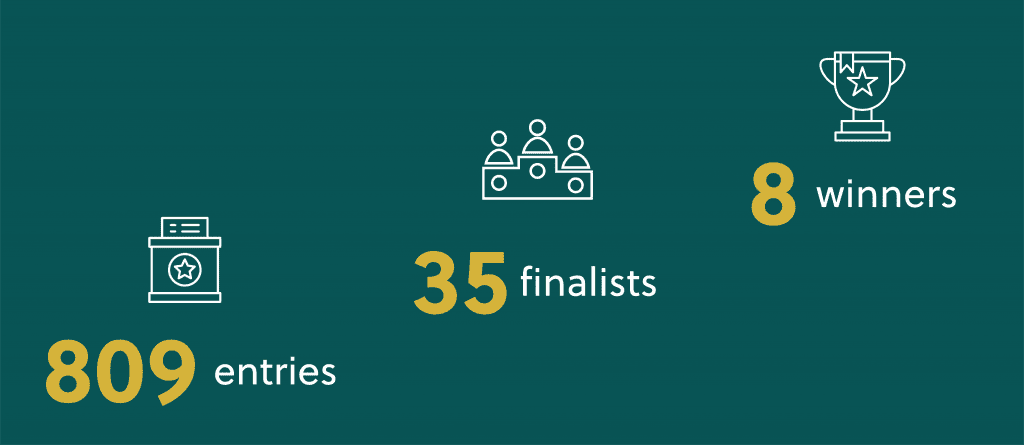 Thank you to everyone who entered, participated and supported the inaugural Best of Bonfire this year. The creativity of our community continues to inspire us more and more each year, and we can't wait to see what you create in 2020.
Best Overall Design
???? Winner – Gilroy Garlic Festival Victims Relief
One of our company's core values is "to strengthen and inspire communities" and we felt that the Gilroy Garlic Festival Victims Relief design perfectly embodies this. Beyond the thoughtfulness of the campaign though, the design beautifully weaves in hand-drawn images of the Golden Poppy (the California State Flower), garlic cloves, and a powerful message of "love over fear" to help the Gilroy community heal after the tragic event. We're proud to say that the Best Overall Design in 2019 was the Gilroy Garlic Festival Victims Relief.
Best Abstract Designs
Representational or not, these abstract designs use symbols and shapes to communicate their message.
???? Winner – Support Students In Need!
Nominees
Best Animal Designs
From cute dogs to hedgehogs, these designs have done an extraordinary job of featuring an animal.
???? Winner – Hedgehogs Fight Cancer!
Nominees
Best Minimalist Designs
Doing the most with the least, these simple designs communicate their message with minimal elements to help you focus on what's important.
???? Winner – Shine A Light On Mental Health
Nominees
Best Designs for a Nonprofit Organization
Representing an organization's mission and purpose, these designs were created by or in support of a nonprofit.
???? Winner – Celebrate and Support St. Jude
Nominees
Best Retro Designs
Throwing it back to a classic look and feel, these designs are a blast from the past.
???? Winner – Little Wander
Nominees
Best Socially-Driven Designs
These powerful designs are making a positive impact on the world.
???? Winner – Gilroy Garlic Festival Victims Relief
Nominees
Best Use of Typography Designs
Lettering has never been this exciting. These designs take their typography to a new level.
???? Winner – The Magic Pill is Hard Work
Nominees
---
Thank you to everyone who entered this year, and congratulations again to all of our winners! We're honored to have you in our Bonfire community and look forward to seeing what you design next.